Business Network Solutions
Optimize Your Network
OBTS offers skilled services for optimizing your local area network. We also make recommendations and provide implementation services for wide area network solutions to connect to your ISP or network your remote offices.

Your data network and applications are critical to your business success.

If you think your network does not respond to application requests quickly enough, then it needs to be improved and this improvement will result in increased productivity.

Your network should be Responsive, Highly available (no down time) for all users, and Scalable to meet, not only your current requirements, but also your future growth.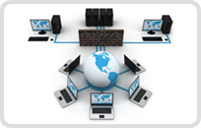 As businesses rely more and more on internet connectivity, Security becomes paramount. Wireless networks are a particular concern for network security. The absence of or a poorly designed Security Solution can result in:


Loss of Critical Data
Corruption of Critical Data
Loss of Network Connectivity (Viruses, Worms, Etc.)

OBTS will survey and make recommendation for your environment to include Host Computers, Switches, Routers, Wireless Access Points, Security Appliances, and Data Storage Solutions to ensure that your network and workstations are optimized to run your Applications.

Network Design and Implementation begins with a thorough examination of your existing network.

A properly designed and implemented intelligent data network will also support your Voice and Video applications.